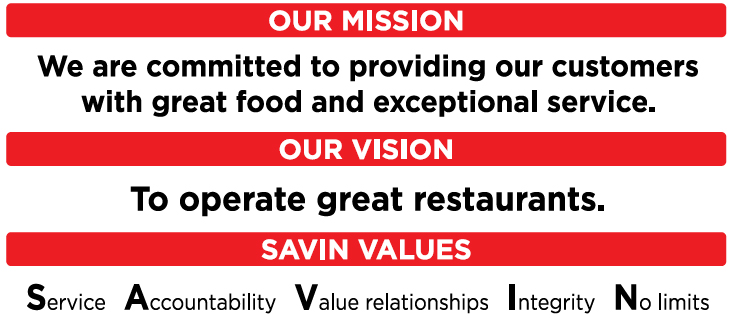 Savin Brands, which was formed in 2005 by father and son team David and Robert Savin, includes 9 Wings Over locations within Connecticut and Massachusetts, 13 Moe's Southwest Grill locations within Connecticut and Massachusetts, plus Park & Oak restaurant in West Hartford, Connecticut. At Savin Brands, we are committed to serving delicious food to the communities of Connecticut and Massachusetts. We take pride in the work we do and the exceptional service that we provide. Our amazing team members throughout our 23 restaurants work hard to create memorable experiences for our customers that will last a lifetime.
Moe's Southwest Grill Locations:
Avon, CT
Newington, CT
South Windsor, CT
Bristol, CT
Southington, CT
Enfield, CT
Hamden, CT
Wallingford, CT
Fairfield, CT
Brookfield, CT
Westfield, MA
Springfield, MA
Chicopee, MA
Derby, CT coming fall 2019!
Wings Over Locations:
Lowell, MA
Fairfield, CT
Framingham, MA
Boston, MA
Bristol, CT
Newington, CT
West Hartford, CT
Storrs, CT
Somerville, MA
Park & Oak Location:
West Hartford, CT